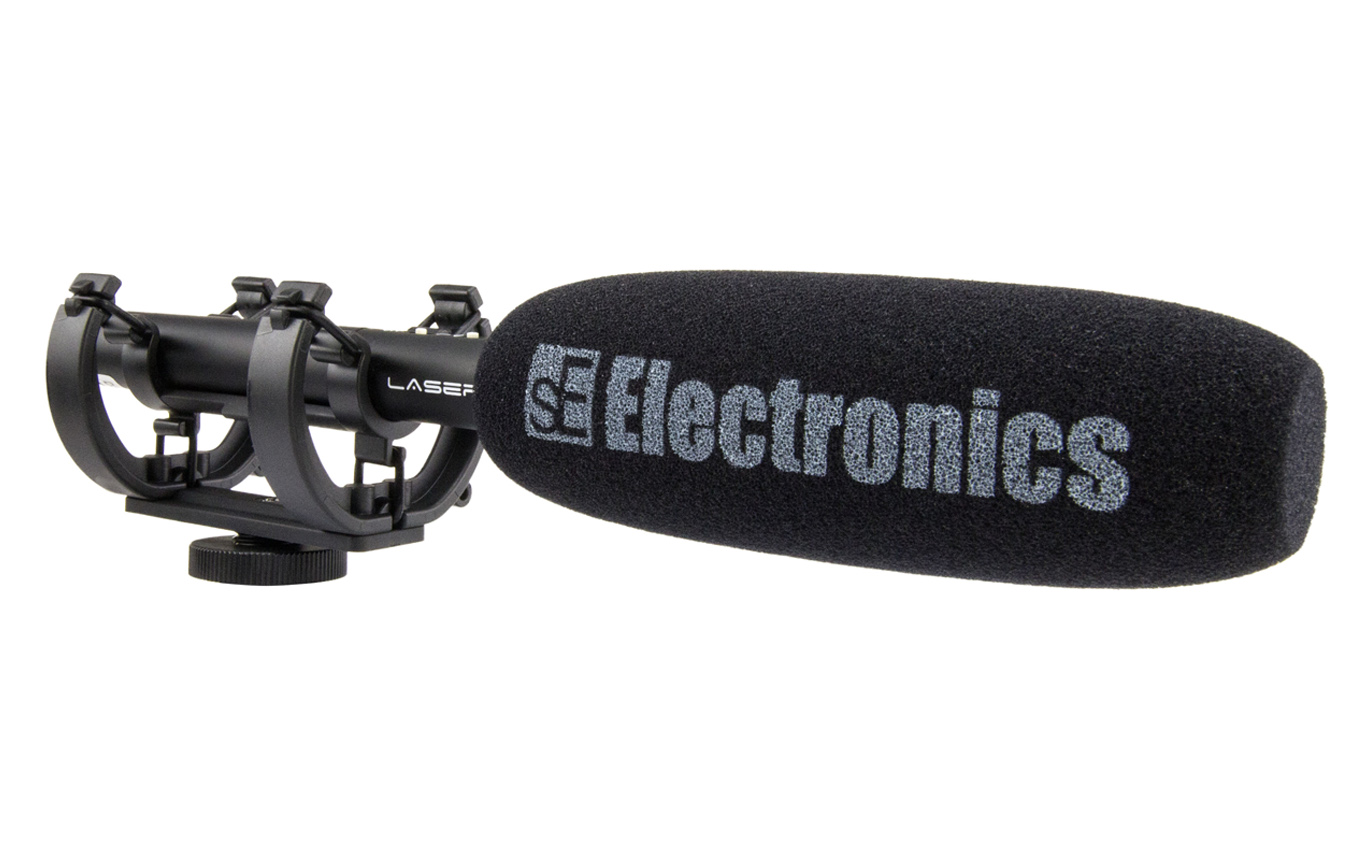 The
ProMic Laser

: a truly professional DSLR microphone.
The Laser is sE's first ever on-camera microphone - a shotgun condenser with a precision-tuned capsule for capturing high-quality audio direct to camera with no exaggeration and no hype.
With more and more video recording enthusiasts taking an increased interest in their audio quality, ProMic Laser provides sound that matches the high-definition video capabilities of today's DSLRs.
The Laser is a serious solution for videographers. It has a rugged, lightweight aluminum body, and comes with a removable wind shield and a custom shockmount for hot-shoe mounting directly onto your camera.
Want to film your friend's rock band? The inclusion of a -10dB pad allows you to reduce the level of the mic so loud sources (bands, jet planes, jet skis) don't overload your camera's audio circuitry.
The microphone also features a bass cut switch, which gives you the option of removing unwanted low frequency rumble - like traffic, air conditioning, or noise from the camera itself - and this can be used in tandem with the -10dB pad.
The Laser provides over 200 hours of use from only a single AAA battery, yet provides high sensitivity and a super-low noise floor.
It comes packaged with a protective carrying pouch and a detachable 3.5mm coiled cable to connect it to your camera.
There are a plethora of camera-mounted mics available, so why did we decide to make the Laser - and why might it be your best choice?
While developing a mic for a camera, a company tends to make sacrifices. Most of the time these cost-cutting measures negatively affect the client - sound quality suffers, reliability suffers, durability suffers. Why use metal when you can use plastic, right?
We don't think like that. The Laser is crafted from aluminum - something you don't see on DSLR mics anywhere below $500 - with a hand-tuned capsule, a clever custom shockmount designed by sE specifically for the Laser, and a super-flat frequency response.
There's no hype or exaggeration here - what you hear is what you get. Honest, truthful, and real.





The Laser can hold its own as a mono mic in a professional studio setting, demonstrated in this video below from Santeri Salmi, author of "Aggressive Drums - The Recording Guide".
EQ, compression, and some other processing has been applied, but Salmi says the processing was "nothing out of the ordinary really. I would use stuff like this in any drum mix."
• ProMic LASER™ shotgun microphone
• Custom-designed shockmount
• Mic cable with 3.5mm jack
• Protective carry bag
• Foam windshield
Capsule Type: 9.7mm Electret Condenser
Directional Pattern: Hyper Cardioid
Frequency range: 20 Hz - 20 kHz
Impedance: 105 Ohms
Sensitivity: 31.62 mV/Pa (-30 dB)
Max SPL: 120/130 dB (0/-10 dB pad) (0.5% THD @ 1kHz)
Signal to Noise Ratio: 75 dB
Self Noise: 18 dB(A)
Pass Filter Switch: 80 Hz
Preattenuation Pad: -10 dB
Connector: 3.5mm mini jack (coiled cable included)
Power: ~200 hours from 1x AAA 1.5V battery (battery not included)
Mount: Camera shoe mount with 3/8" thread for boompole use
Weight: 73g / 2.55oz
"...the microphones cost about the same, but the aluminium ProMic Laser is superior in build and indeed in sound quality...with its bargain price of about €145.00, the ProMic Laser is in my opinion an impressive microphone for video shooters, offering professional-level audio quality."
"If you want a directional microphone that has a neutral sound and excellent performance without distortion at any frequency, you can't do much better in this price range."
- IT Enquirer (full review)
"Awesome little mic! I borrowed this from a friend who was raving about it, and now I am too. More natural sounding than my [other mic], WAY less wind prone (it doesn't shake my DSLR like my bigger [other mic] does when it's really windy), very light (it's almost not there), long battery life and doesn't drain my camera, the shock is much easier to get the mic in and out, and I don't keep losing the rubber bands. I'm buying another for my 2nd camera, my Rebel."
"This mic is also a little "flatter" than the [other mic] (that is OK for me because the [other mic] can be a bit brittle for my taste). Some people may not like that aspect of the sE, but I would rather have a "truer", more natural sound (you can always EQ it if you want to later). All in all, for $ bucks, you can't go wrong with this thing!"
- B&H Photo Video customer quotes (full reviews here)
"Filming a subject relatively up close, it could do the job of a lapel mic in recording someone speaking...For more general recording it's excellent, capturing an accurate and well-balanced signal to complement your visuals."
- Hollin Jones, AskAudio Mag (full review)
"The build quality is up to sE's usual high standard and the unit feels more sturdy than its nearest rival...and yet still remains lightweight courtesy of the aluminium construction. You would hardly notice it attached to your camera."
- Simon Arblaster, Future Music (full review)
"Even low-frequency noise like the roar of the new publishing coffee machine or traffic noise is recorded down to the lowest frequencies, faithfully and with a good sense of spaciousness."
- Professional Audio [German] (full review)