"The RF-X does a great job of dampening room noise for vocalists, giving you a dry vocal sound to which you can add effects in the mix...we found it worked really well, getting the same result as far more expensive options."
- MusicTech Magazine, July 2017 -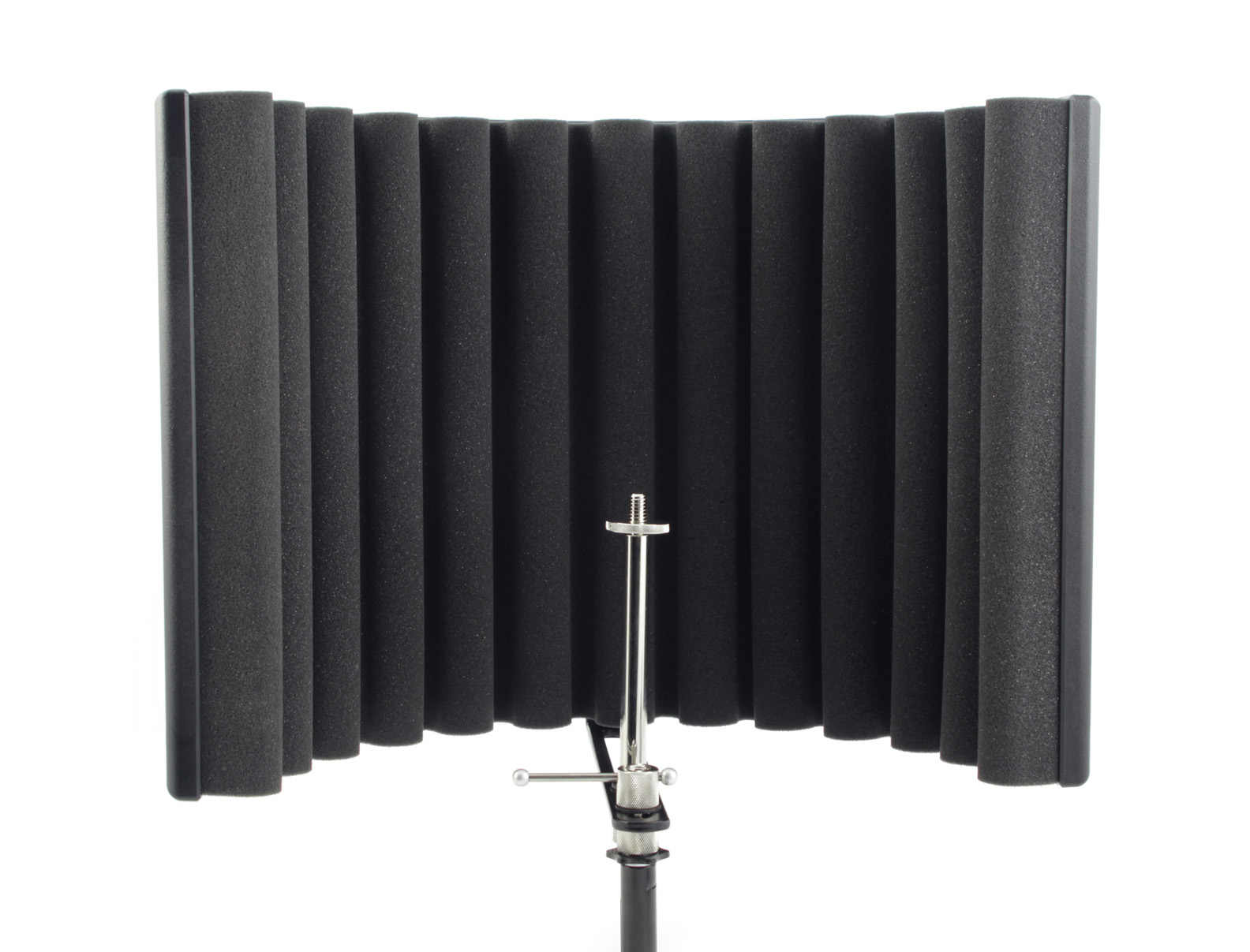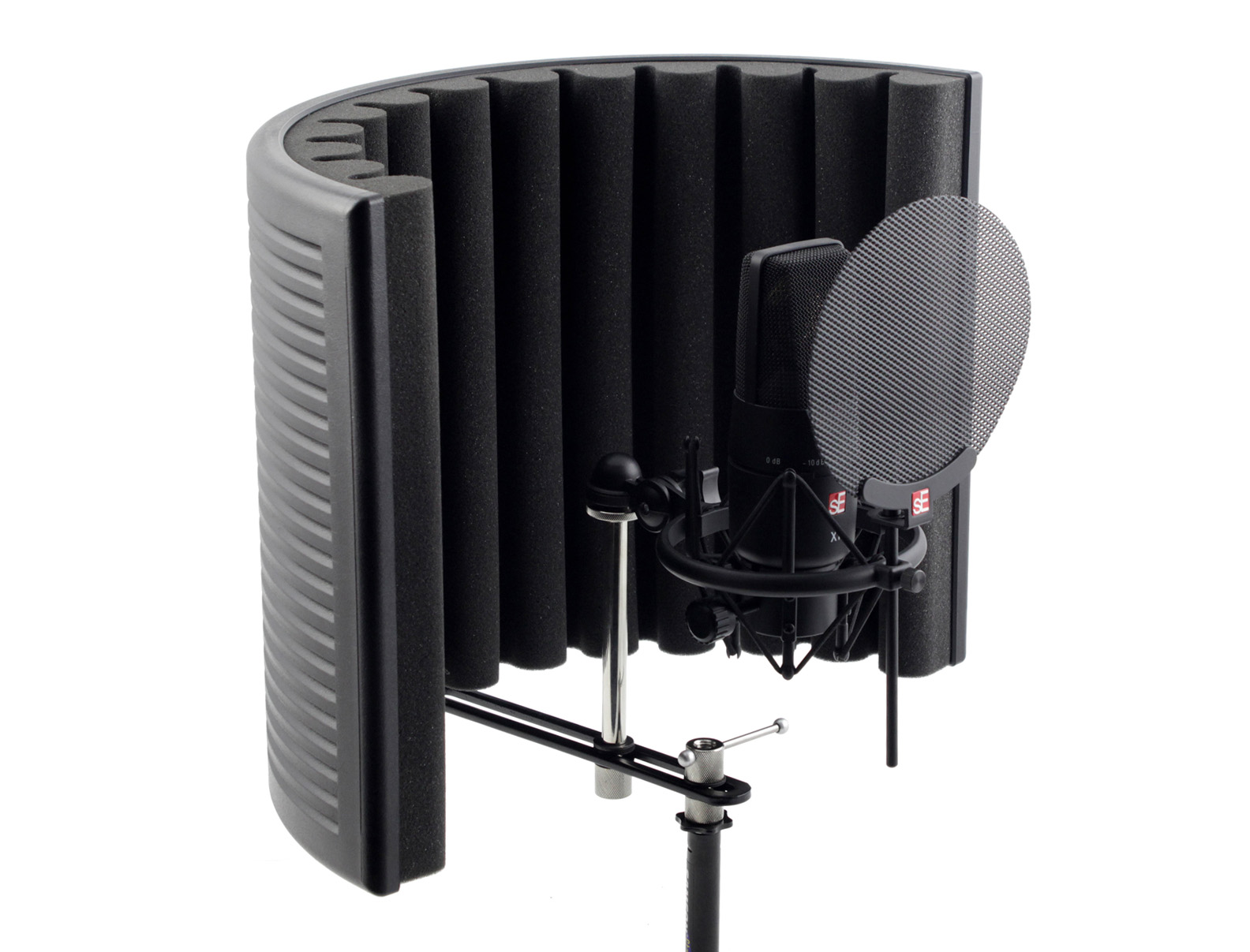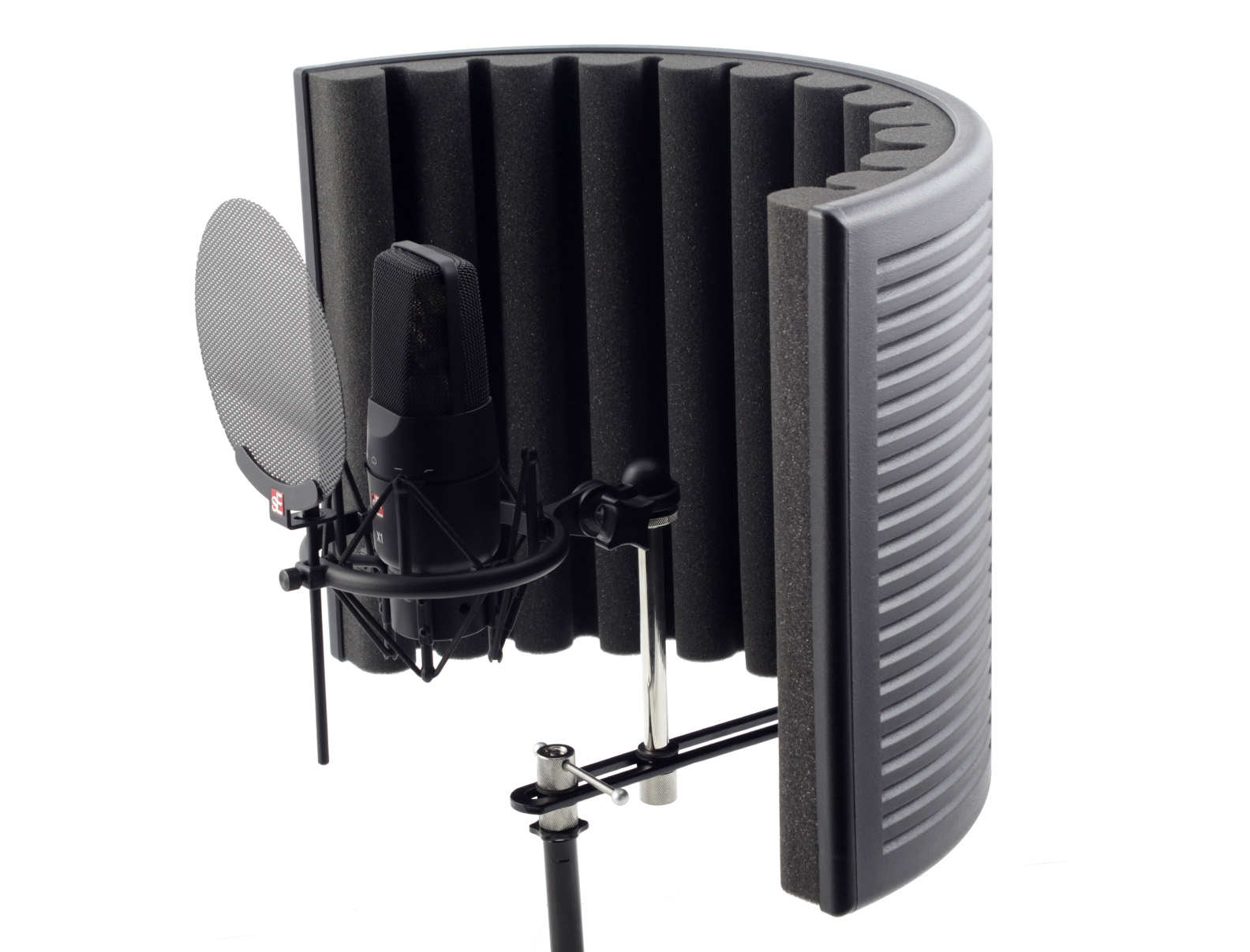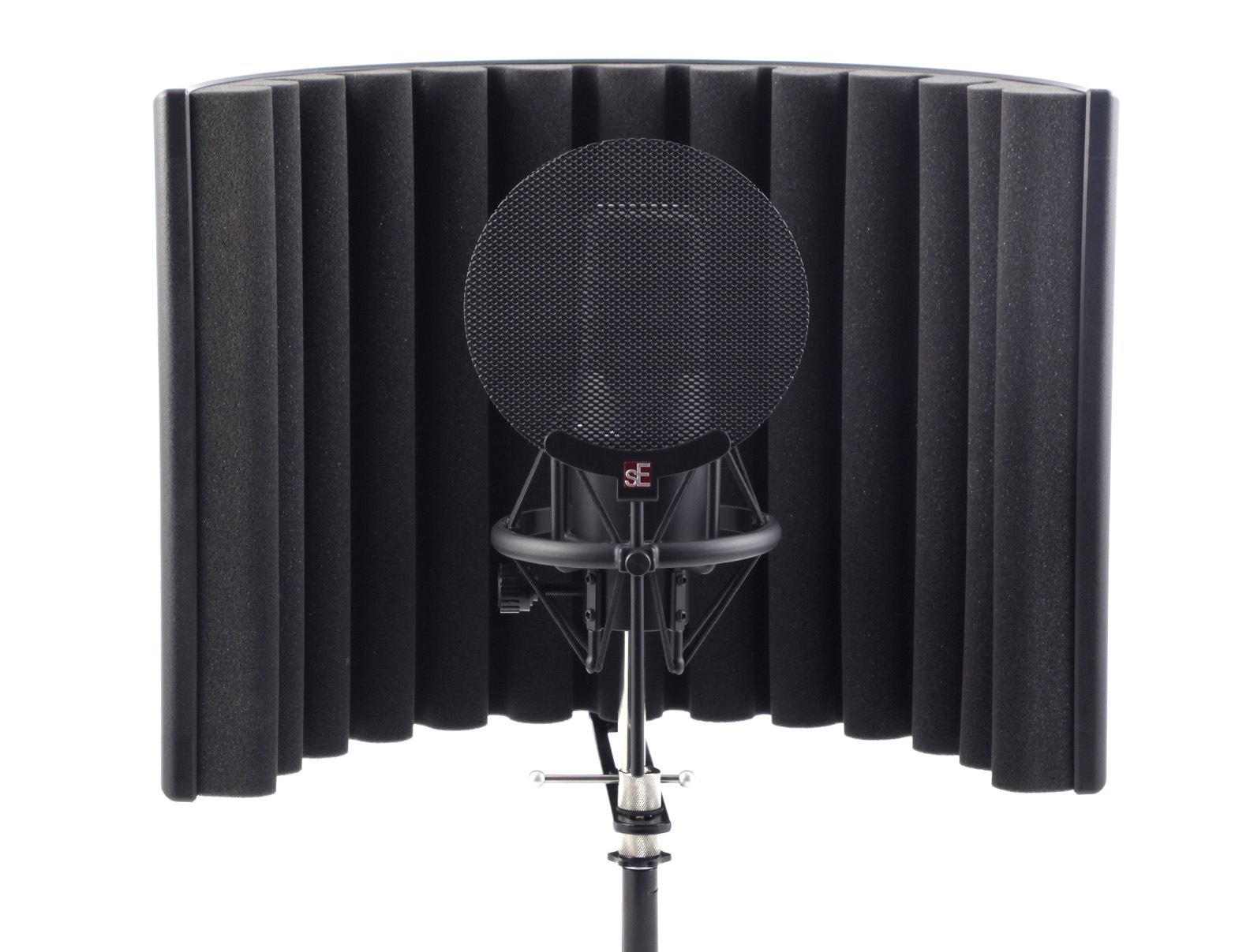 The
RF-X

is an instant vocal booth for any home studio.
Unwanted room sound interfering with your recordings? With the RF-X, anyone can capture a great-sounding recording anywhere.
Using the same design technology as the industry standard Reflexion Filter® PRO, the RF-X was conceived to answer the needs of the discerning recording artist working on a budget. With its lightweight vented body and an efficient, redesigned clamp assembly, the RF-X is simplicity itself, providing stellar performance and ease-of-use.
New materials have been developed to make the RF-X lighter than its predecessors but also to maintain its durability – helping to position the RF-X as a versatile product suited for any challenging working environment. It features a four-layer acoustic filter design comprised of the outer vented composite panel, a wool fabric layer, an air gap layer and an inner acoustic foam layer.
This multi-layer design differentiates the RF-X from its competitors by filtering frequencies evenly across the whole spectrum, helping to ensuring that recordings exhibit almost zero sound coloration when using the filter.
And just like the RF Pro and RF SPACE, each RF-X is assembled by hand in the sE factory.
Clean up your recordings. Get an RF-X.
ALSO AVAILABLE:
A microphone + RF-X package that gives you everything you need to start recording.
Reflexion Filter® X

Mounting bracket

Mic stand thread adapter
Click here to view / download the assembly PDF:
"The RF-X Reflexion Filter does a great job of dampening room noise for vocalists, giving you a dry vocal sound to which you can add effects in the mix. In practice, we found it worked really well, getting the same result as far more expensive options."
- MusicTech Magazine, July 2017 (full review)
"Gone is the mud...the difference is like night and day. I went from somewhat skeptical to wishing I had bought this product years ago."
"Really helps get rid of unwanted reflections and room sound when my recording environment isn't the best. I'm completely happy with the portable vocal booth, and it has definitely improved my sound. Thanks guys."
"Worked great. Highly recommended."
"It sounds as clean as the professional studio I work in!"
"It's the only one I've found in this price range that has somewhat true diffusion (most are solid or just have holes drilled in them)."
"The quality of my vocal recordings in my untreated room improved immediately; in fact, I could hear the difference even before I hit the record button, just standing in front of the device warming up."
- Assorted Sweetwater customers (full reviews via Sweetwater.com)
"This is the perfect tool for an in-home recording set up. I had a great, simple set up in my last apartment but recently moved. The new apartment is very small with no clear space for VO my studio. I have had to create some sound proofing panels, which are working fine, but I still needed something to catch the reflected sound off of my big computer screen at my desk. This does the trick perfectly. Just wish I'd known about it sooner."
- 'RH', B&H customer (full review via B&H)
on the Reflexion Filter® Series:
"Everyone should have one."
- Ryan Hewitt, Producer/Engineer (Red Hot Chili Peppers, The Avett Brothers) - sE Artist
"I like to do vocals in the control room - much more direct interaction with the vocalist, so it's perfect for that. With so many of us working in all sorts of situations these days, the Reflexion Filter transforms any of these into a viable recording environment."
"I also think it's a wonderful device for students to know and learn about, to hear the difference with and without the filter. All audio schools should have them."
- Lenise Bent, Producer / Engineer (Blondie, Steely Dan, Supertramp, The Band, Fleetwood Mac)
"I've used them on vocals and instruments alike where I either need more isolation from other sounds/instruments in the room, or I don't like the character of the room and I'm trying to minimize the amount of room sound pulled into the mic."
"You can never have enough tools and tricks to get the job done. This is exactly the kind of tool that, once you have it, you'll use it over and over."
- Neal Cappellino, GRAMMY®-winning producer/engineer (Brad Paisley, Vince Gill, Alison Krauss & Union Station) - sE Artist
"The Reflexion Filter has made a big impact on the quality of our home recordings. Never again will an amazing vocal take be marred by intermittent meowing or the sound of the fridge!"
- Tegan and Sara, pop musicians - sE Artist
"The Reflexion Filter makes a huge difference in small recording spaces that are more and more the norm..."
- Andy Bradfield, Producer (David Bowie, David Gray, Rufus Wainwright)
"Trust me, they will change your recording process for the better."
- Ricky Lawson, Drummer (Michael Jackson, Quincy Jones, Whitney Houston)
"After using this, I instantly realized how many problems I had in my booth, because all of a sudden they weren't there anymore."
"As far as clarity is concerned, the filter made the biggest difference."
"Everybody should get this product if you're thinking about recording anything. Because it's going to take you to the next level of professional and quality recordings."
"Best option on the market other than an actual vocal booth/room."
"It did two things: one, made capturing my instrument's true sound much easier, and two, saved me lots of money."
"I was pretty skeptical when I bought this, but I finally gave in after listening closely to recordings I've made in my living room. I would now say that this is a must have for any project studio with an untreated room."
"You need this even if you don't think you do. Bottom line: I didn't know how good my equipment could sound until I got this little fellow."
- Assorted Sweetwater Customers (full list of reviews here)